This is a follow on to this thread which I posted back in 2007:
Bearded Dragon Breeding
It got "rediscovered" recently and seemed to generate a fair bit of interest, so I thought it'd be interesting to post up some new photos to show people where their beardies come from and what happens to them before they go to their new homes.
It's probably a good idea to put a couple of links in at this point - for anyone thinking they'd like to give it a go, I strongly recommend you read this page:
How much does it cost to breed bearded dragons?
. Sadly, breeding beardies - especially non-morphs - is likely to actually cost you money, not to mention the time you'll have to put into it. It's not uncommon for me to spend 5-6 hours per day looking after my reptiles - and that's after I get home from work! In fact, as I write this (it's now 9.34pm), I've just finished dealing with a female who's been laying eggs (see below for photos ), have now managed to answer most of my emails and callbacks, and have just started cooking my evening meal. I actually ended up in work today despite the bank holiday, so my day started at 7am. The beardies also need looking after 365 days a year - unlike my real job, I don't get days off with the beardies.
If you're going to breed beardies, the best advice I can give you is to plan ahead, save well in advance, expect a loss, and - most of all - do it because you have a passion for the animals, not because you're wanting to make money from it. I'm not trying to put people off, just make them aware of what they're committing to when they pair their dragons.
Anyway, enough of that boring stuff - onto the photos!
Beardies come in a variety of colours and patterns - the first thing I need to do is to choose the right beardies to pair together. Sometimes the pairings are for "immediate" babies (ie the good looking ones). Other times they're for "future" babies (ie this clutch may not look so stunning, but gives me better genetic options for the next generation):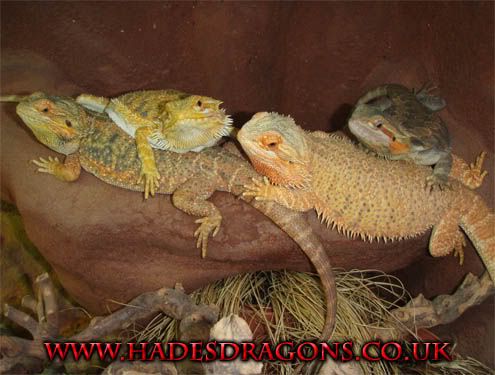 Then you pair them and let them do their thing
Females lay after around 4 weeks - they'll put on a lot of weight, most noticeably around their abdomen: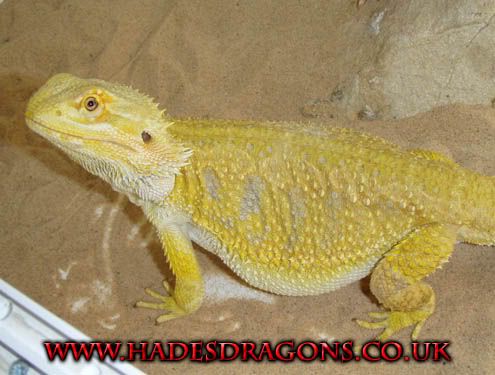 I now use a dedicated laying box for females. It's equipped with damp sand to allow tunnelling, and a basking light. Females will generally lay the first day they go in, but some need several days in here before they get their tunnel just right - you might as well make it comfy for them!
The females dig a tunnel, lay their eggs and bury them. Then I dig them up. Virtually all of my girls lay in this corner of the box, although a few take a left turn and lay in the lower corner. Females generally always go the same way, clutch after clutch, so I wonder whether it might be left and right handedness which determines which direction they dig in...?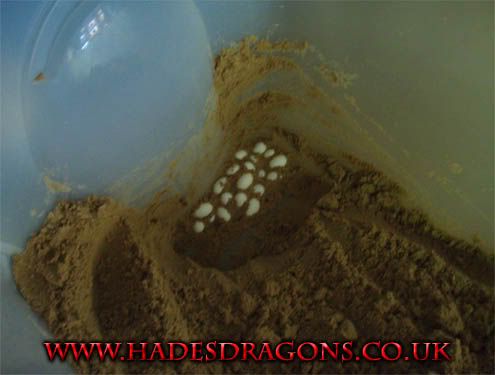 A healthy clutch of eggs should be white and plump, like these: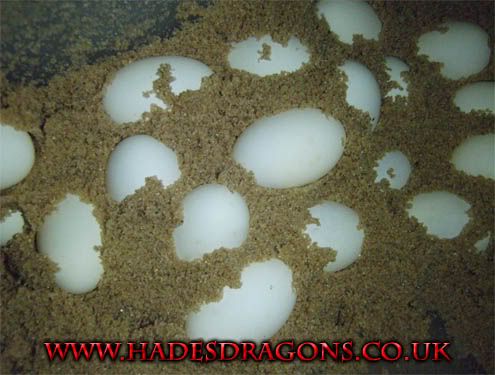 Take care when uncovering the eggs as they can be fragile. Try not to turn them, even at this early stage. I then move them into perlite. I prefer perlite to vermiculite as it shows up any stains better: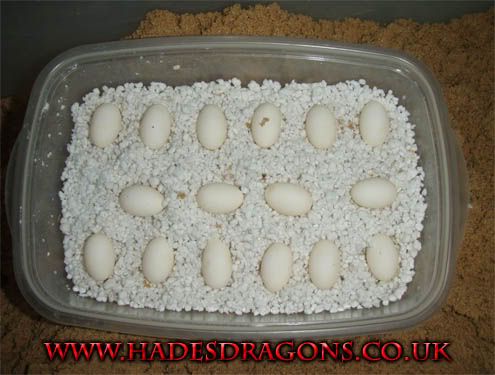 The tubs are then labelled. This tub contains 16 of the reasons why I've not eaten since lunchtime. The mum is Phoenix, the date they were laid is today (31st May), and this box contains 16 eggs, out of a total clutch of 24:
The eggs then go into the incubator, set to 84-86f. Incubation typically lasts 8 weeks - these eggs should be hatching late July/early August: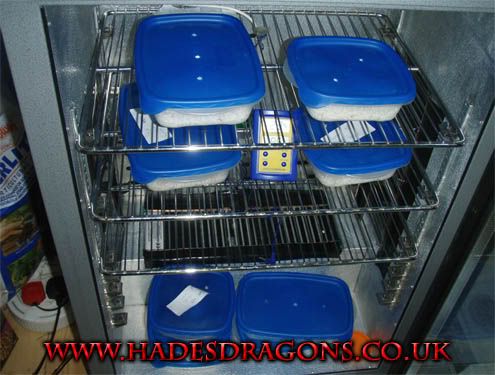 You can see whether the eggs are fertile or not by candling them after a week or two - fertile eggs will show a network of veins spreading through them. This egg is two weeks old: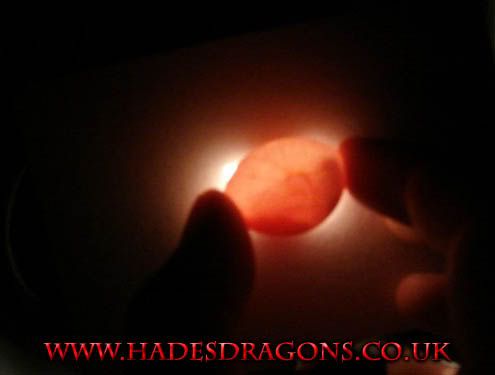 I don't necessarily recommend candling eggs though - they are very fragile and easily damaged. You must be very careful to make sure they aren't rotated as this can kill them. This eggs is 7 weeks old - a week from hatching - and the dragon is just about fully formed: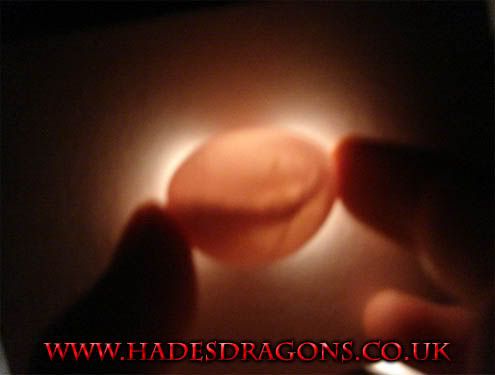 When it's time to hatch the baby makes a hole in the egg and puts its head through. It'll then sleep for a day or so to recover strength, before making the final push for freedom. Hatching from the egg is probably the hardest thing a dragon will ever do. This baby is a Translucent, which gives it the ultra-dark head: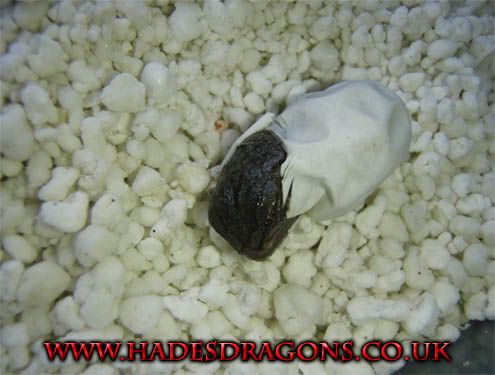 Babies go back in the incubator for a day or two to allow them to reabsorb their egg sac, then they are moved to their first rearing tub. This baby is a day-old leatherback:
For the first few days of their lives the babies won't eat, and will do little except sleep and bask:
For the first couple of weeks of their lives, babies live in 5s, according to the order in which they hatched. At two weeks, I generally put the entire clutch into a 50l RUB and go through and regroup them into 4s or 5s by size. This enables me to put the larger babies together, to minimise dominance issues:
This is also the point where I give each hatchling a unique colour-coded number. This is painted onto their right leg and their tail. This allows me to identify each individual baby, to keep track of their appetites, behaviour, favourite foods etc. It also allows people to purchase specific babies. At this stage, I'll already be noting the codes of babies that I'm interested in keeping: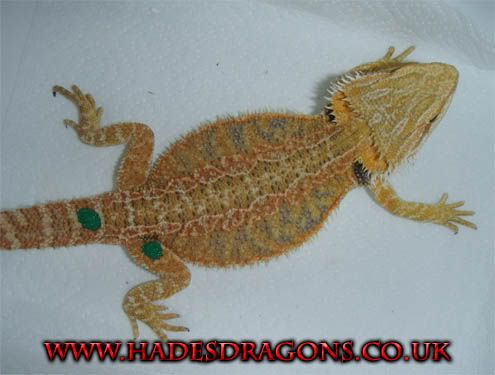 I use two types of setup for hatchlings. These tubs are around 18" x 12" and are deep enough that babies can't jump out. Babies can stay in these tubs for the first 6 weeks of life:
The alternative are these tubs, around 24" x 15". They have mesh tops so the babies can't get out. These will do for around 8 weeks: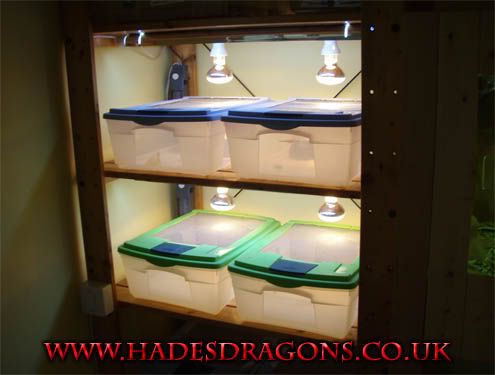 At 6-8 weeks the babies typically move into vivariums - these are 36" x 12":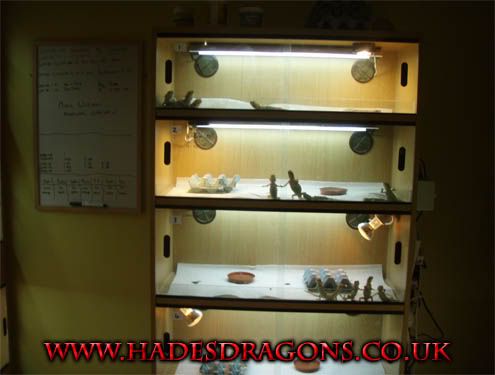 By now I'll be starting to look through the babies in more detail, to decide on grades for them, and to decide which are worth growing on for a bit longer. The first of the babies go on sale at 6-8 weeks, and any that are earmarked as potential holdbacks are moved into separate setups:
Babies to be grown on typically go into 50l RUBs with mesh lids: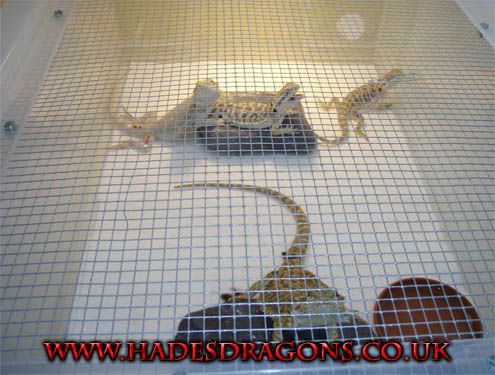 The setup is kept simple - a basking rock and a water dish, with (at present) paper as a substrate:
Feeding and cleaning is what takes up most of the time - the babies are all cleaned daily, and are fed several times a day. We're fortunate enough to be able to grow a lot of our own food - it's fresher and more nutritious than the hydroponically-grown greens available in supermarkets. What we can't (or don't) grow, we buy from a supermarket:
This photo's actually "borrowed" from the
Uromastyx
section of the new website (more Uro-related content coming soon - it's just a gallery for the time being

), but hopefully gives an idea of what food preparation involves. Now multiply this by all of the adults and babies and you get an idea of how much times it takes just to prepare greens, let alone livefood!
Hopefully that's been interesting and gives a bit of insight into my crazy little world - the general principles are the same as in the 2007 thread, but the details have changed a bit over the last few years.